Four and Five Year Old Programs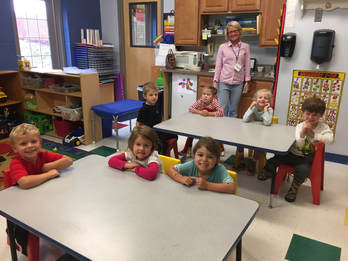 This program furthers the opportunity for children to develop their cognitive, social and emotional skills. More experiences are provided in math concepts, language, multi-cultural awareness, alphabet recognition - upper and lower case, phonetics, pre-reading skills, counting, the calendar days and months, sorting and patterning, nutrition, art projects and monthly/weekly themed curriculum. Routines are greatly emphasized and group work is encouraged to help develop the qualities needed to succeed in school. The focus of the program is to expand upon the foundation already set forth and ready your child for his or her next step into Kindergarten, or if necessary, the Pre Kindergarten program.

Participation in the Pre-K program requires successful completion of the 4/5's program and the child is not old enough to enter into Kindergarten. At Pine Grove Early Learning Center we expand upon language development in the form of oral language, sound recognition, letter knowledge and print language. Small classes allow for more individualized attention in the areas where it may be most needed. Each child is challenged based on their ability level on a variety of topics which include the beginning sounds of phonics, rhyming words, math skills such as counting, recognition, relating facts, patterning, graphing, science and social study activities. Monthly/weekly themed curriculum is still used as our days are filled with a distinct flow of activities. In our classrooms, we build flexibility into your child's days and encourage them to move through the activities at a comfortable pace. This flow helps prepare your child for the structure of kindergarten. We are involved with the local elementary schools to devise curriculum to best help your child be successful when they transition to primary school.

---